The Oakland County Child Killers (Christopher Brian Busch and Gregory Greene)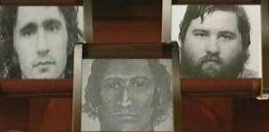 It took well over 33 years after these horrible crimes occured for Busch to finally appear as a suspect. The last official murder by the Oakland County Child Killer was in 1977, Christopher Busch Committed suicide in his home in 1978, with his death the murders seemed to finally end. Busch had been originally polygraphed and apparently cleared by the taskforce in the 1970's. An odd thing happened years later though, two men who were neither suspects or related to the victims helped bring Busch's name to the top of the list of potential suspects.
Polygraph examiner Patrick Coffey, just so happened to run into a Southfield polygrapher by the name of Lawrence Wasser while at a conference in Las Vesgas. He would tell Wasser the reason that he got into the field was because his neighbor in 1977, Timmy King had been murdered.
"(Wasser's) response was, 'I guess I can tell you this now, because the attorney who represented the guy is dead, and the person who did it is dead.' He said, 'I tested the guy who confessed to killing your neighbor boy.' " Coffey spoke to Action News Investigative Reporter Heather Catallo by phone from California, and said once he had the conversation, he immediately contacted his old friends, the King family. From there, the Kings told the police, and Christopher Busch's name emerged. Busch would have been 25 in 1976, and he lived in a home in Bloomfield Township. Christopher Busch's father, Harold, was a top financial executive with General Motors, and those close to the case say the family had a great deal of money, and that the parents were often away from the Bloomfield home. In early 1977, Flint police arrested Christopher Busch and a friend of his, 26-year-old Gregory Greene, for criminal sexual conduct charges. Newspaper accounts from 1977 show Flint police arrested them for allegedly forcing dozens of boys to commit sex acts and engage in lewd photography. Greene was kept in custody on a $75,000 bond, and eventually served a life sentence. Christopher Busch's bond also started at $75,000. But a copy of his jail inmate record shows that someone crossed that out, reducing it to only $1,000, and he walked free. One of the cases that may have been tied to the Flint bust ended up in Oakland County. Records uncovered by Catallo show that Busch pleaded guilty to both 3rd and 4th degree criminal sexual conduct. As part of the plea deal, he got two years of probation, had to pay an $800 fine, and the charges were dropped. But the details from the testimony at the preliminary exam are shocking. A young boy from Flint testified that Greene and Busch drove him in Busch's car to a rural area in Groveland Township. That's where the 13-year-old said Busch performed a sex act on him, and forced the boy to do the same to Busch. Of interest in the testimony was the boy's description of Busch's car: "Blue Vega, White Interior, 1974, with a white stripe on the side." After King's abduction, the child killer task force searched for a Blue Gremlin with a white stripe. The cars are eerily similar. And if you examine the mug shots of both Christopher Busch and Gregory Greene, they do look like the composite suspect sketch that circulated at the time of the murders. Oakland County Executive Brooks Patterson was the prosecutor at the time of the case against Busch. He does not remember this specific case, but believes it would have been referred to the task force at the time. [Brooks Patterson/Prosecutor at time of Child Killings] "Is two years of probation, and a fine – no jail time – a light sentence for something like that? Oh hell yes! We had a reputation of being pretty aggressive, so there had to be something that would have allowed us to accept probation." But Patterson says there's no way Busch got a "deal" because of his background. [Brooks Patterson/Prosecutor at time of Child Killings] "To suggest that my office, or the sentencing judge – Judge Templin – somehow was less than aggressive because the parents were rich – that's absolute crap!" Busch was also arrested by the Midland County Sheriff's Department in 1977. He was found guilty, but records show he only got probation in that case as well. On November 20, 1978, Christopher Busch was found dead in his home. Police reports show he committed suicide with a rifle. Sources close to the case say police at the suicide scene found ligatures, which can be used to restrain someone, and a sketch of a young boy that reportedly looked just like Mark Stebbins, one of the four young victims. Police reports show the "task force was notified" and members came to the house that day. The renewed interest in Busch prompted a search last year of his former home. Patterson saw the warrant that was used to gather trace evidence, like fibers and hairs from the air ducts. Patterson wants this case closed for the families. [Brooks Patterson/Prosecutor at time of Child Killings] "You've got to have enough to satisfy a judge to sign that warrant. So that's a level of proof, if you will, called probable cause. And there was probable cause to obtain a search warrant, so there's probable cause to believe this man probably was involved." For the last year, the Michigan State Police have been analyzing what they found inside that home, but they won't talk on the record about Busch right now. As for the polygraph examiner who supposedly got the confession out of Busch? For some reason, he isn't talking either, and his attorney denies that he ever said anything about the case. The families say the taskforce investigating the case has had over a year to complete DNA testing and testing on trace evidence that could identify the killer. For Barry King, there is disappointment. Barry King/Father of Timmy King: "We were stonewalled. They did not answer one of our inquiries." King and Erica McAvoy spoke out in a television interview for the first time, expressing their unhappiness over the investigation of the Oakland County Child killer case. Recently the two had attended a meeting of the task force along with other family members, but left without answers to their questions. Barry King is the father of Timmy King, who was 11-years old when he was abducted in Birmingham on March 16th, 1977. His body was found six-days later in Livonia. Erica McAvoy is the half-sister of Kristine Mihelich. Ten-year old Kristine was missing for 19 days in 1977 before her body was discovered in Franklin. They are two of the four children who were murdered in 1976 and 1977—murders that created fear and panic in southeast Michigan. Now, it's nearly 33 years from the date the first child disappeared—and there are still no answers as to who killed Timmy, Kristine, Mark Stebbins and Jill Robinson. Erica McAvoy/Half sister of Kristine Mihelich: "Many people say, you know, it's done, it's over with, it happened over 30-years ago, why can't you accept that." But they won't accept it because they think a Christopher Busch, was the killer. Barry King: "I want the testing done and I want a decision by the law enforcement agencies as to whether or not Mr. Busch did or did not participate in the killing of these children, and in particular, my son. In October of 2008, investigators obtained a search warrant for Busch's Bloomfield Township home. They collected material from the heating and cooling ducts, looking for evidence that might link Busch to the murders. Erica McAvoy: "I will tell you that we will not quit until we determine the truth and what happened and who was involved." Timmy King was the youngest of Barry and Marion King's four children. He was a good student, a hockey player, and a baseball player, and as his dad remembers him, a sweet kid. Barry King: "I still have a wooden bored, he colored with a crayon that said, Happy Birthday Dad because he didn't have any money." Barry King: "Before I die I would like to know who did this to my son and If it is or isn't Christopher Busch, I will still hope that it is solved, but I don't like being stonewalled and I don't like getting no explanation for the delays. If this was Jimmy Hoffa, it would have been solved by now." Erica McAvoy: "There is never closure and there never will be, but they deserve justice."